Join us as we herald the first day of the academic year!

The evening's program will start with a special chapel service, after which we will officially launch Head of School of Theology Dr David Neville's book, "The Vehement Jesus". Following that, Rev'd Dr Ian Coutts will be delivering this year's Commencement Lecture. 

Chapel service starts at 7:00pm. The Book Launch and Commencement Lecture will start at 7:30pm.
Being Human in God's Likeness?
Thinking theologically about 'Family' and the Church, and about Children in the light of the Royal Commission
What is our understanding of being human? Christians believe human beings are made in the image of God, but what might that mean if Christians also believe in a trinitarian God? A trinitarian understanding of being human arguably lays considerable emphasis on the quality of our relationships with one another and indeed with God. This is a rich theme that also may bear on other significant issues of love, loss, loneliness, stress, mental health, domestic violence, friendship, attachment theory and human development. This year's Commencement Lecture will look at how a trinitarian perspective might help us to think theologically about 'family' and the church. It will also consider the absence of theology about children, bearing in mind the findings of the Royal Commission.
Revd Dr Ian Coutts is an adjunct lecturer at St. Mark's in Practical Theology and the Trinity, and General Manager for Mission and Community Engagement at Anglicare NSW South, NSW West & ACT.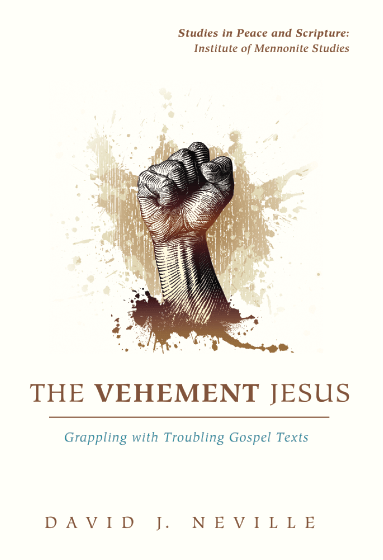 The Vehement Jesus: Grappling with Troubling Gospel Texts
St Mark's is proud to launch the fourth single-title book authored by CSU's Head of School of Theology, Dr David Neville. Titled "The Vehement Jesus: Grappling with Troubling Gospel Texts", the book examines several perplexing passages in the Gospels that, at face value, challenge the conviction that the mission and message of Jesus were peaceful. Using narrative analysis and various forms of intratextual critique in the service of a hermeneutic of shalom, the author makes the case that Gospel portrayals of the vehement Jesus are compatible with, perhaps even indispensable to, the composite canonical portrait of Jesus as the Messiah of Peace. As a result, this exploration in New Testament theology and ethics makes an invaluable contribution to the crucial conversation about the role of Jesus' life and teaching in Christian reflection on the morality of violence today.  
What others have said about the book
"This engaging work of patient and passionate scholarship is theologically productive. Neville is well-informed, fair-minded, meticulous, creative, and—above all—honest."
— DALE C. ALLISON, JR., Princeton Theological Seminary

---

"Neville's close, contextual readings of Gospel texts that seemingly implicate Jesus in violence (by teaching or action) could be a model for biblical scholars who want to face diffculties in the Bible head-on while respecting the normative, canonical thrust of Scripture (an ethical variant of the rule of faith). Without harmonizing variant traditions or reducing them to their supposedly 'historical' kernel, Neville proposes responsible readings of problematic texts in a manner that will be helpful to the church negotiating a violent world. Parenthetically, his treatment of the cursing of the fig tree is worth the price of the book."
— J. RICHARD MIDDLETON, Roberts Wesleyan College
Professor Thorwald Lorenzen, Professor of Theology and Principal Researcher at Charles Sturt University, will be officially launching the book.
Signed copies of the book will be available for purchase for a special price of $25 on the day.
About the Author
David J. Neville is associate professor of theology and lecturer in New Testament studies at St Mark's National Theological Centre, the Canberra campus of Charles Sturt University's School of eology. He is the author of two books on the synoptic problem and, most recently, A Peaceable Hope: Contesting Violent Eschatology in New Testament Narratives (2013). More about Dr David Neville.
Let us know you're coming!