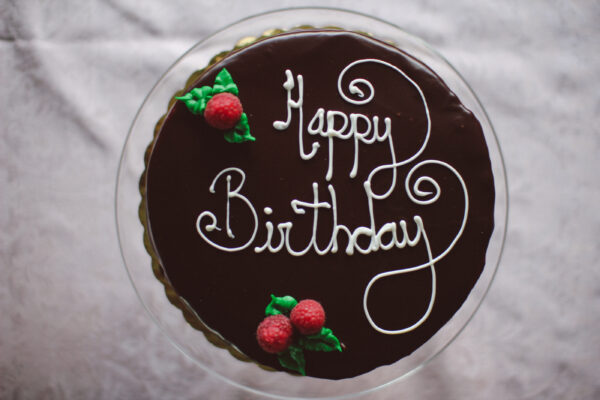 Happy Birthday Jesus (part 1)
This article is part 1 of an (edited) message Andrew Cameron gave at the Anglicare NSW Christmas Service on Wednesday December 7th 2022. The theme was 'Happy Birthday, Jesus!'
Christians reckon it matters that Christmas is Jesus's birthday. Then, we tend to finger-wag that others should take it more seriously. The problem with that, of course, is that it takes some time for the meaning of a birthday to grow on us.
My grandson was born on July 29th 2019, what was once just another date to me. But I really, really like the little guy. He has the great belly laugh when he sees something amazing. He goes 'Whoarrghh!!' when he opens a present. The thought of July 29th makes me happy now, because it is a thought of him.
And conversely, I'm not particularly moved by, say, Joe Biden's birthday, back there in the mists of time. If you don't really know the person, their birthdate means little. When I found myself changing the label on a public holiday from the 'Queen's Birthday' to the 'King's Birthday', I felt a little deflated. With no disrespect to His Majesty, I felt more attached to Her Majesty, as I am sure many still do.
When it comes the birthday of Jesus Christ, our affections roll one way or the other. Perhaps it feels more like Queen Elizabeth's, or more like King Charles'. Perhaps it is more like the way I feel about my grandson, or how I feel about Joe Biden. For some, the birth of Christ means as much as for a loved one in their family. For others, it feels about as distant as Julius Caesar's birth. You'll either warm to it, or it will feel remote, because the meaning of a birthday can only grow on you once you get to know someone.
Most are aware that Jesus' actual birthdate was probably not December 25th, in much the same way as the Queen's (and King's) Birthday Holiday is not that date in June. It would be a trivial thing to get hung up about, though. The date doesn't matter as much as the fact of that birth; and this time in December carves out an opportunity to pause, maybe to feel something new.
To do that, I've found it helpful to call to mind moments from Jesus' life that leave me feeling the kind of joy about him that feel around my grandson. Three episodes spring immediately to mind.
I think of the time a howling mob came after a woman, basically to lynch her. They reckoned she was sleeping around, and in a righteous rage wanted to exterminate her. Thinking Jesus was that kind of religious, they call on him to legitimate their rage, and this killing. He ignores them. They harangue him some more. Then, maybe at the risk of his own life, he famously says: 'Let any one of you who is without sin be the first to throw a stone at her.'
When they gradually melt away, he asks an odd question, but one that she now needed to process. 'Has no one condemned you?'
'No one, sir,' she says, perhaps looking around in a kind of daze.
'Then neither do I condemn you.' Go and start again, he says, without having to live like you were. She was minutes from death, and now she's free and forgiven, with a new beginning. No matter how many times I hear this story (Jn 8:2–11), it thrills me. (It doesn't appear in the earliest versions of the Bible, but as we shall see, it is so very Jesus-like.)
Then there is the time (Mk 7:24–30) he deliberately crosses the border, to a place in modern-day Lebanon, to a people whom his countrymen refer to as 'dogs'. He visits a woman whose daughter is possessed. She begs for Jesus' help; there's a kind of altercation, where Jesus holds out at first, saying that he has come only to help Israel.
But this woman can see something, and persists. 'Lord,' she says, 'even the dogs under the table eat the children's crumbs.' Jesus basically responds: that is a brilliant insight. Go home. Your daughter is well.
Scholars argue over that altercation, and the holding out. But every time I see this vignette, it gives me goosebumps. Because he went to her land and found her and her daughter. He discusses with her like an equal, and lets her press him, and in all this gives a gigantic rebuff to his culture that called people like her dogs, as if somehow beyond God's kindness.
I think of that other woman with an awful, humiliating condition that had made her an outcast. She's brave enough to seek him out while he is at the height of his fame, muscling through a crowd, just to reach out and touch him. When she does so, he somehow senses it, and stops, and searches her out in this crowd, and says 'Daughter, your faith has healed you. Go in peace.'
He affirms her, wishes her peace, and ends her misery (Mt 9:20–22; Mk 5:25–34, Lk 8:43–48).
How can anyone not warm to this man?
To be continued in Part 2…