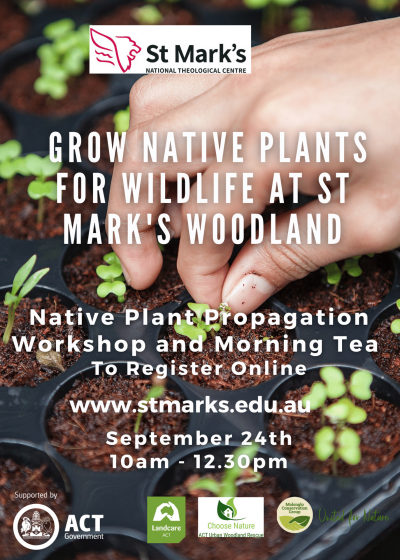 St Mark's invites its Landmark neighbours to a Woodlands Workshop.
Saturday September 24, 2022
10am-12:30pm
Propagating native plants in our little Woodland will support native wildlife and insects as well as maintaining the unique biodiversity.
The workshop will involve information about the woodland and how St Mark's is working to maintain it. Alice Hathorn from ACT Urban Woodland Rescue will run the practical component of identifying and propagating native plants. After all of the hard work, morning tea will be provided for attendees.
Children are welcome (if supervised by an adult) and no experience is necessary. ACT Landcare is kindly sponsoring this event and providing all the required equipment.
We'd love to meet you so please RSVP below if you'll be able to join us.
This project is supported by ACT's Wellbeing through Nature Program, under the ACT Government's Health Promotion Grant scheme.